WE ARE CURIOUS ABOUT YOU!
With us, you have the opportunity to work in all branches of architecture, and to learn from the full spectrum of expertise in architecture, interior design, urban planning, landscape design, building economics, etc. At Krook & Tjäder you will become a natural and important part of a team. We value good relationships and consideration for one another and for our clients.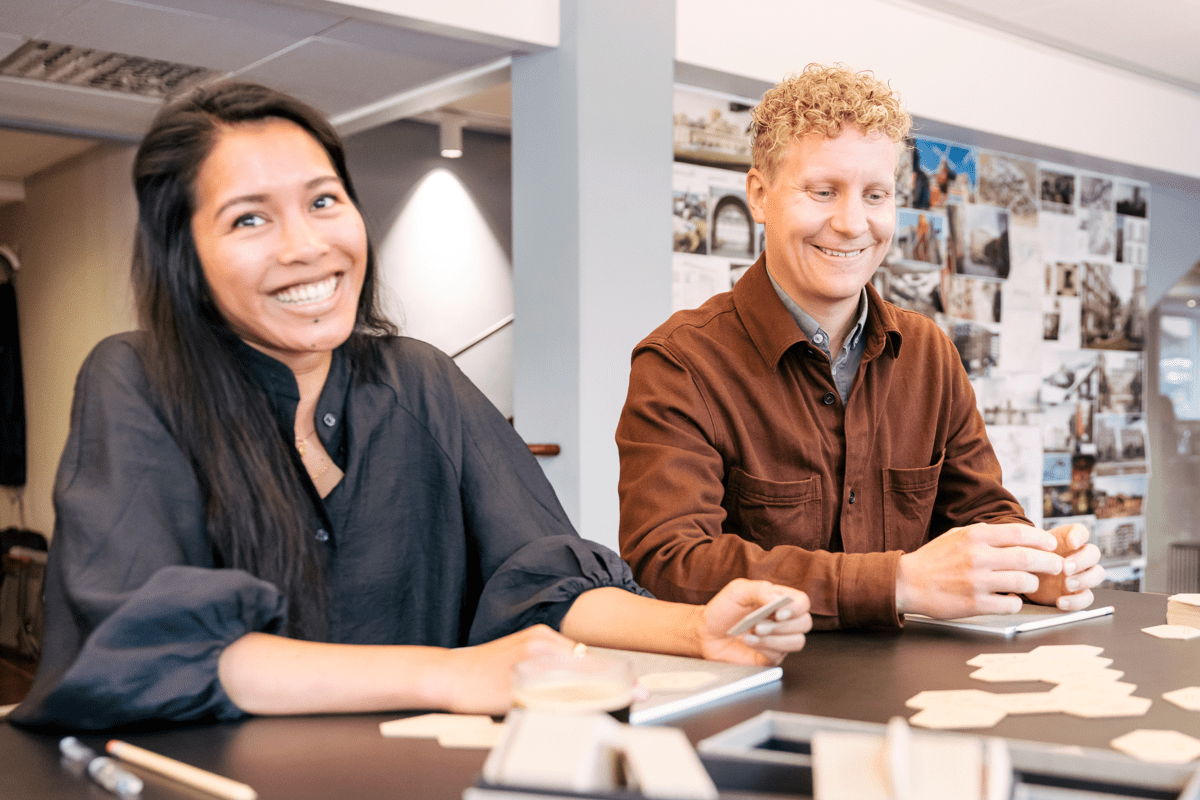 RELATION + AMBITION
Our culture is based on openness and consideration. We value relationships and know that close cooperation with each other and our customers takes us further both in projects and in our development. We have high architectual ambitions and work for a committed and responsible approach in everything we do. This means a good ability to work together, a non-prestige approach and a desire to develop as an individual and as a team.
GET TO KNOW SOME OF US
The wide range of my tasks means that I develop every day. In addition, I like the flexibility and the possibility to work remotely. In combination with wonderful colleagues in the office, it becomes the best of both worlds.

Emma Hulander

Economist - Gothenburg

I like the feeling of the small architectural office but with the benefits that come with having many colleagues in other offices. This provides a broad competence in the company and a large network.

David Bartenius

Landscape Architect - Malmö

I like that there are great development opportunities and that I myself influence my future. At Krook & Tjäder, we also have a lot of fun together and make lots of activities togheter outside work.

Jesper Sannefeldt

Construction Engineer - Gothenburg

I have the absolutely best colleagues. There is great warmth and concern for each other, which creates a family feeling. Everything is possible when you have the right people around you who lift each other up.

Karen Cubells

Architect - Stockholm
SOME OF OUR BENEFITS
We think it is fun and important to meet each other. At the same time, we promote flexibility and you are free to work some days from home or from another location.

We want our employees to have good balance between work and private life. Therefore, our employees have great opportunity to influence their own work. We apply shortened annual working hours and our employees are offered extra days off in connection with certain holidays.

We are connected to Innovationsföretagen, where benefits such as occupational pension, optional flexible pension, enhanced sick- and parental pay, etc. is included.

Health comes first! We offer all our employees a wellness allowance of SEK 4200 annually.

We strive to have healthy and well-being employees. We work actively to promote this through, for example, health checks and we follow a development model with frequent appraisals. March is our annual health month, where we focus extra on health-promoting activities and lectures.

We have a preventive health insurance with Skandia, which offers our employees support and coaching in various life situations.

We offer massage on a regular basis, either in our premises or at a massage studio, depending on where you work.

In order for you to grow in your role, we offer extensive training mixed with individual training efforts. Every Friday you can listen to Talks within architecture by your awesome colleagues. In addition, you have of eight hours a year that you can use freely to attend external courses during working hours.

You are offered favorable offers through Benify. Perfect when you, for example, want to use your wellness allowance. Here you can also activate salary exchange and get advice linked to your pension.

Krook & Tjäder is employee-owned and every year the opportunity to become a co-owner is opened through our stock market. It gives you as an employee exciting opportunities.

One of the highlights of the day is that we meet for breakfast coffee with fresh bread and good coffee. Of course, you also have access to coffee, tea and fruit during the day.

It is important to celebrate success together - it can be anything from a competition win to a colleague's special day. Every year, all employees enjoy "Krook & Tjäder-dagen" where we talk architecture and socialize. Also, you don't want to miss our Friday after works.
WHAT´S YOUR DREAM JOB?
We are always looking for new stars to our offices. You are very welcome to send us an open application. Connect with us below. Hope to see you!
About Krook & Tjäder
Arkitekterna Krook & Tjäder is one of Sweden's largest architectural firms with over 300 employees. We are a full-service company that operates in urban planning, landscape design, architecture, interior design and product design, as well as as a process partner, with projects both nationally and internationally. We have offices in Gothenburg, Stockholm, Malmö, Borås, Halmstad, Uppsala, Östersund, Kristianstad, Karlstad and Oslo.